Most college students and adults are familiar with internships, mainly because they probably had one. But what about high schoolers? Are they familiar with what an internship would entail? And are internships for high school students beneficial? And what would high school internships even look like?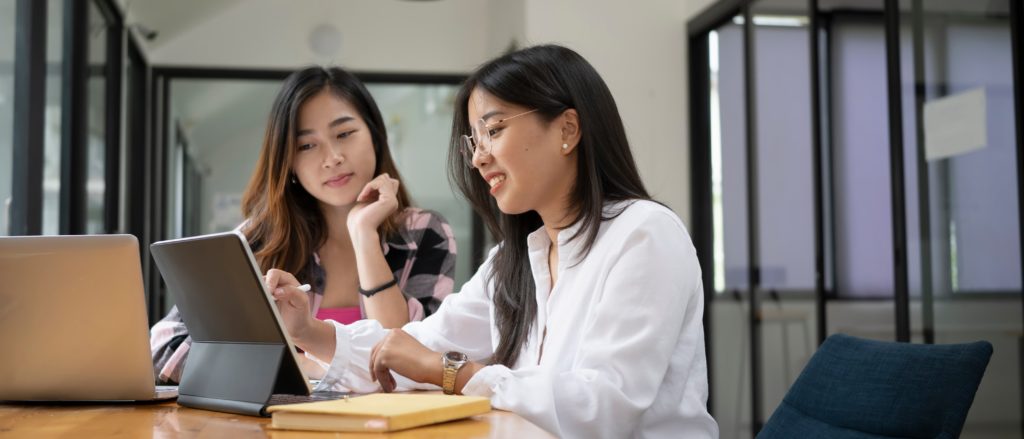 Speaking from personal experience here, as a high school student I wasn't aware of what an internship would entail. I knew people had them during college and the purpose was for personal and professional development, to gain exposure to a potential career. That was about it. I had no one telling me that internships for high school students were a good idea.
Looking back I wish I had been exposed to what an internship experience was truly like. Not only to gain experience but the professional skills that I could have learned would have come in handy.
Keep on reading for a list of some of the benefits of having an internship in high school and some of the best internship programs available to high school students.
Having High School Internships Can Boost Your Resume
During your junior and senior years of high school, many students are focused on beefing up their resumes for applying to colleges. One way to do this and stand out from your peers: get a high school internship. Not many high school students take advantage of this unique opportunity, so by having a high school internship experience you'll stand out to potential college programs and future employers.
Benefits of High School Internships
Do exist for high schoolers
Impress college admission boards
Impress employers – pre-college and post-college, employers will be impressed by your hustle
Build your network
Gain mentors
Gain real world experience
Gain subject matter expertise
In addition to being beneficial to a student's academic future, having an internship is also just a cool experience. Getting to explore potential academic interests at no cost, and sometimes even getting paid for it? Seems like a pretty sweet gig to me.
It's also a great way to find a mentor. In a big public high school isn't always the easiest task to form a close relationship with a teacher. But an internship where you are working one on one with someone is the perfect mentoring program and a great way for students to get real-world advice about their field of interest.
Lastly, high school juniors and seniors or even high school sophomores who have internships demonstrate that they have skill sets that are as attractive to employers as older students. Pretty impressive if you ask me.
It's Not Only College Students Who Benefit From Internships
We've danced around this idea, but having an internship in high school can give you an idea about what type of career field you want to look into. Many students go into college with little to no idea of what they want to do. And students that do have an idea end up changing their minds several times.
High school students that have internship experience will gain a better understanding of what type of career they would like to go into. If you prefer a 9-5 desk job or being out and about. If you want to go into a STEM field or if you prefer a humanities one. Internships are the best way to job shadow someone and get exposed to potential careers. You may decide there's no way you can major in chemistry way before you start shelling out major cash on tuition credits at college, and realize instead biology, physics, or music theory might be your thing.
You'll meet other college students who have internships too and build relationships with people a few years older who will be well-positioned to hire or recommend you a few years after you graduate from college.
Why High Schoolers Should Get Internships
Explore potential college majors before shelling out big bucks on tuition
Explore potential career fields
Connect to other people in your carer field or studying your potential college majors
5 Best Internships For High School Students
Now that we've established how students can receive a resume boost from having an internship and some of the other benefits that come along with one, here is a list of 5 of the best types of internships available to high school students.
1. Museum Internships
Many museums offer internships available for high school students. Students interested in history or related fields would benefit from an internship like this, especially high school seniors looking to go into a similar field.
Some of the top museum internships available are the Cincinnati Museum Center Internships, New-York Historical Society Student Historian Program, and the Smithsonian Internship.
2. Internships in the Science Fields
STEM fields are some of the hardest fields to go into. It is a huge time commitment, especially if a student is considering attending medical school. Having an internship in a science-related field can prepare young scientists for what their futures could look like.
A great type of internship to explore this field would be an independent research project, overseen by a professional of course. A clinical research internship would be great for students looking to go into healthcare career fields.
Internships that are available in this field include The Geosciences Bridge Program, the Johns Hopkins Internship in Brain Sciences, and other laboratory-based research opportunities.
3. Student Research Internship Program
Research centers are constantly looking for more people to staff their centers, so they can increase their progress. Having this type of internship will prepare students for a future career in STEM fields or any other field that is research-heavy.
This opportunity would be great for graduating seniors. College papers and assignments require a lot more research than high school ones do. Having a research internship would prepare graduating high school seniors for college-level assignments.
Research projects that are available to high schoolers are cancer research programs, NASA internships, and the Scripps Translational Science Institute.
4. Bank of America Student Leaders
Looking for an internship that is paid, and will teach you about finance? Look no further! The Bank of America Student Leaders internship is an eight-week program that teaches students about working with nonprofits.
This is a great way to learn leadership skills while exploring career fields. The Bank of America Student Leaders internship will teach you practical skills in a professional setting. It's not always easy to picture what to expect when considering a career in business or finance, but having an internship with a bank or other financial institution is a great way to see if you enjoy it.
5. Performing Arts Internships
Internships aren't just for those going into STEM fields, they have creative programs too! One example, the Met High School Internship Program, connects students interested in a career path in creative arts with professionals in that field. Not only do students gain the hands-on experience they also gain a resource.
Like the STEM fields, performing arts is a hard field to go into. Whether it be for vocal or instrumental performance, acting, or other forms of performance art. Not only that but art schools have extremely competitive placements. Having a performing arts internship as a high school student will set you apart from your peers!
6. Ask for the Internship You Want
Got a passion for working with the elderly? Ask for an internship at a local nursing home. Want to be a journalist? Go for an internship at a local small town newspaper.
The key is in the ask. If you ask them do you have any free or paid internships, you'll probably get a no. Write a thoughtful email to a director or employee there, saying you're interested in working in Career Field X and you'd love to volunteer there and shadow for a couple weeks this summer, you're more likely to get a bite.
Early on, like at your interview, you can state you'd like to be able to call this an Internship for resume purposes. Make it easy for the employer. Propose the sorts of tasks you want to accomplish and what your responsibilities will be. Make a list. Let the employer add to the list, or veto items, or offer feedback.
If you're not sure what the description should look like, here's where you can get inspiration.
Inspiration for How to Write Your Proposed Internship Description
Look at other relevant, entry-level job descriptions the employer has.
Look at any relevant internship listings the employer has.
Look for other internship descriptions (Google it).
Look for job descriptions on LinkedIn or job sites that match the kind of Internship you want to have.
Ask your guidance counselor or mentor for guidance.
Final Thoughts on High School Internships
Having an internship in college is one thing, everyone is doing that, but having an internship in high school? That will set you apart from your classmates and boost your resume for when it's time to apply to colleges. Its 2022 internships aren't just for college students anymore. These opportunities are for everyone.
Not only is having an internship in high school a resume boost. Through having an internship in high school you're gaining direct hands-on experience to a potential career path before you began studying it. This gives you a chance to see if you're even interested in that field of study. Which, as we touched on above, is a priceless experience.
Coming from a current college student who did not have an internship in high school, I 100% recommend having an internship in college. If I had had one it would have been extremely beneficial. And come graduation, job market entrants should check-out OpenComp and their tool that lets you see salary ranges for various careers.
Check out these College Savings: 529 Plan Basics by State
Western 529 Plans
Southwest 529 Plans
Midwest 259 Plans
Northeast 529 Plans
Southeast 529 Plans
Other Plans
Related Articles: