Putting money towards a college fund is no easy task especially since higher education is becoming more expensive each year which means the amount of money needed to pay tuition increases as well. With the rise of crypto and with more colleges beginning to accept cryptocurrency and other digital currencies for tuition payment, you may be looking at crypto as a potential avenue to earn interest. The article below will give you the low down o how to save for crypto for college.
Related: Join Upromise! Upromise is the free online rewards program where you earn cash back rewards for college. Get $30 free for your child's college when you sign up free and link your college savings account. Get Upromise now!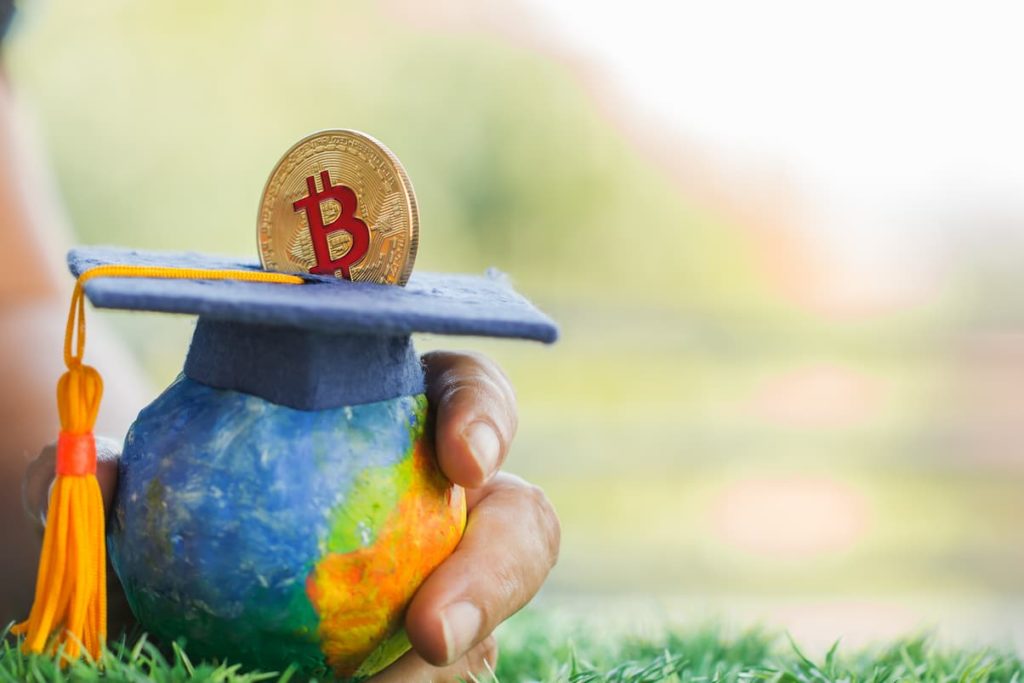 Can you put crypto in a 529 plan?
A 529 college savings plan is a state-sponsored investment plan that allows you to set aside money for a beneficiary while also paying for educational expenses for that beneficiary. You can use the funds to pay for nearly any type of higher education expenses without having to pay taxes on them. Additional state and federal tax benefits may be available through 529 plans.
A 529 plan can assist in financing a college education in a number of important ways, including the following:
It provides you with the opportunity to save money for educational expenses.
You can take tax-free withdrawals from your account to pay for qualified expenses.
It has a low required minimum contribution amount of only $50.
Every state besides Wyoming has a 529 plan
But can you put crypto into a 529 savings plan?
The answer is: no. There is currently no way to do this, but you can use an alternative method by opening a crypto savings account through a variety of crypto exchanges.
These accounts, on the other hand, do not provide the same level of security that a bank or credit union savings account can provide. Before making a decision to invest, it's critical to understand how crypto savings accounts work, as well as their advantages and disadvantages.
As soon as you understand how these accounts operate, you'll want to know where you can find the best high yield account so you can start saving for college using a crypto fund.
Remember, investing in Bitcoin and other cryptocurrencies has its own set of risks just like other forms of investments. However, with the right crypto market, you can make more informed decisions for long term investments with digital currencies.
What are the best savings accounts for crypto?
Choosing the right account to hold your crypto in is important if you want to the most interest available so that you can ensure you can pay for your future students tuition. Below you will find a list of the best crypto based savings accounts with their top yields.
Hodlnaut
Hodlnaut has some of the highest payouts available for earning money with your cryptocurrency.
Weekly withdrawal from wallet limit with no lock-in periods or minimum deposit requirements
At the moment, you can earn up to 12.73 interest percent on USDC and 7.4% on BTC.
If you make a deposit of at least $1,000, you will receive a $20 bonus.
Celsius Network
Earn up to 17% APY on your crypto
Buy crypto with your bank account or credit card
Swap crypto with zero fees
Take a crypto-backed loan starting at 1% APR
Refer a friend and earn more (Each get $50 in BTC)
Gemini
A leading marketplace for crypto investors, Gemini is actually the backbone for many other exchanges
Buy crypto with your bank account or credit card
Earn interest through Gemini Earn, where you can get interest on your crypto holding
You can receive up to 8% interest, including 2.05% on BTC
Coinbase
A great referral program where you can earn BTC from your friends
Integrated wallet
Earn up to 4.0% interest yearly on certain coins.
Sign up for Coinbase through Swagbucks, earn a $40 cash back bonus.
The above are all great ways to use crypto as a way to save for your college fund goals.
Does cryptocurrency count on FAFSA?
Yes, cryptocurrency does count on FAFSA.
Bitcoin and other virtual currencies are regarded as valuable assets. If a student, student's spouse, or parent (as applicable) owns Bitcoin, they must report the value of the cryptocurrency in U.S. dollars (as of the date the FAFSA form is submitted) as an asset on the FAFSA form in order to be eligible for financial aid.
If a student or parents sell Bitcoin and realizes a capital gain as a result of the sale, the taxable portion of the gain will be included in the student's or parent's adjusted gross income (AGI) for the year in which the gain is reported on the tax return, and the AGI will be included on the associated FAFSA form. More information on how the Internal Revenue Service treats virtual currencies can be found on the IRS virtual currency webpage.
Can you pay for college with crypto?
There are currently two major universities accepting bitcoin payments in the United States. They are the following colleges.
The Kings College, New York City
King's College in New York became the first accredited university in the United States to accept Bitcoin (BTC) payments when it did so in 2014.
King's College is partnering with Bitcoin trading company Coin.co to accept Bitcoin as a form of payment, receive donations, and reduce operating expenses, among other things.
Wharton School at the University of Pennsylvania
The Wharton School, one of the most prestigious business schools in the United States, plans to allow Bitcoin as payment for tuition. The business school intends to accept cryptocurrency as payment for its digital assets and blockchain program, which began in 2018.
Because of this, Wharton is the first Ivy-league institution to accept cryptocurrency payments as a result of this implementation. Wharton will become the second university in the United States to accept cryptocurrency payments, following in the footsteps of schools such as King's College in New York.
UPenn will collaborate with Coinbase Commerce to accept cryptocurrency payments made through any blockchain wallet.
Outside of the United states, the list of universities that will accept cryptocurrency as tuition is much longer, they are the following
The Innovation and Entrepreneurship Business School (IEBS)
Varna University of Management (VUM) in Bulgaria
The Lucerne University of Applied Sciences and Arts, Switzerland
ESMT Business School, Berlin
The University of Nicosia, Cyprus
FPT University, Vietnam
European School of Management and Technology, Germany
Financia Business School, France
The University of Cumbria, United Kingdom
The list of universities accepting cryptocurrency for tuition payment is getting increasingly longer everyday as digital currency and digital assets become more mainstream. In the future UC Berkeley will be accepting crypto payments for tuition.
Can I pay student loans with Bitcoin?
Unfortunately, if you're thinking about how you can pay student loan debt off with bitcoin, there isn't really a straightforward way to do so, as opposed to paying with the United States dollar or other common types of currency, at this time. However, because student debt is at an all time high, you may be wanting to find a way to cash out of your bitcoin.
Instead of going through the hassle of attempting to figure out how to pay student loans with bitcoin, you have the option of selling a portion of your bitcoin holdings at a profit and using the proceeds to pay off your student debt. However, be careful of the tax implications of this.
Related Articles:
Check out these College Savings: 529 Plan Basics by State
Western 529 Plans
Southwest 529 Plans
Midwest 259 Plans
Northeast 529 Plans
Southeast 529 Plans
Other Plans