By Paige N.
Do you have kids in college? Grandkids? Or do you just have a student you want to send something to?
Speaking from experience, it always brightens my day when a family member or friend sends me care packages at school.
Here are some tips, tricks, and helpful guidelines for sending college care packages. And some college care package ideas.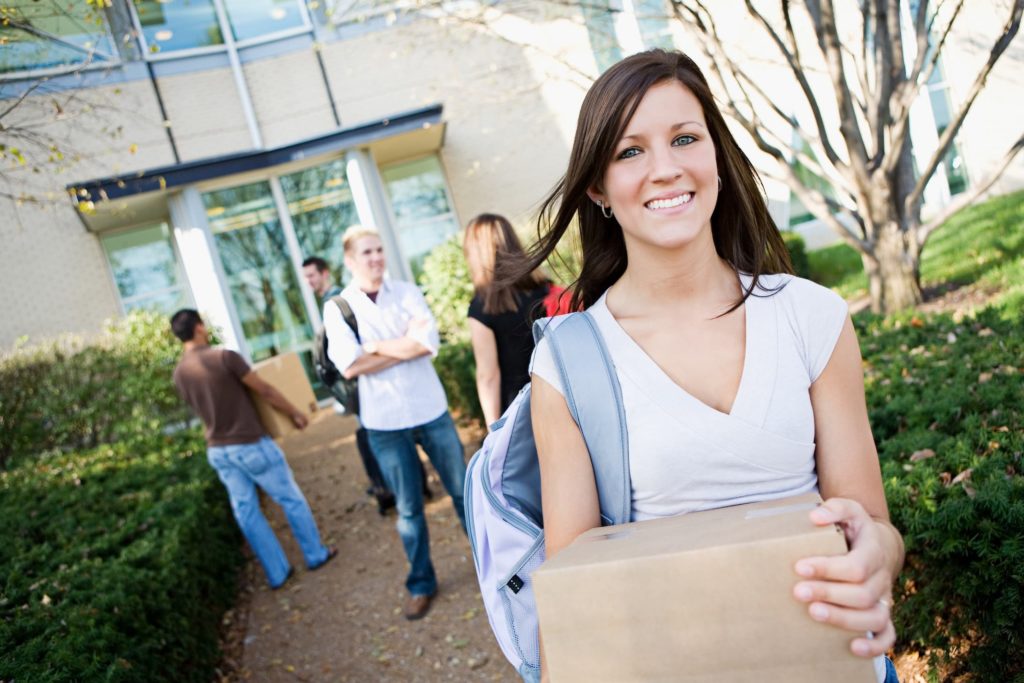 Can you send packages to college students?
Yes, you can send packages to most college students. It's a very welcome surprise. Especially among college freshmen. My mom sent me a few packages when I was a first-year student.
All you need to send something to a college student is an address. If they live in a house or an apartment it's easy to get an address. If they live on-campus you can send it to their dorm or college mailroom. If you're not sure what their address is you can try contacting the school's student life center.
How to build the best college care package ever
If you're looking for inspiration, here are some items you can put in a care package that any student would love to get.
Homemade cookies
Healthy snacks (individual size)
Laundry detergent (pods)
Office and school supplies (stapler, washi tape, Scotch tape, jumbo binder clip)
Double face tape (like 3M Command Strips)
Cozy socks
An encouraging note or letter
Carabiners (large and small sizes)
Pens
Stickers (for laptop or water bottle)
Kitchen multitool (like this kitchen multitool on Amazon)
A gift card to a Target, Walmart, or a local grocery store (so they can stock up their fridge)
A little mad money
Even $10 or $20 is a welcome infusion of cash. A student will be thankful to receive this gift. While they won't stash it in their 529 plan, they can use it to buy lunch out, pay for a couple of coffee runs, or just a fun little extra at the store.
What are college essentials?
College kids all need the same essential things. Bedding, toiletries, school supplies, healthy snacks, basic kitchen things, and so on. However, some things prove to be more important than others
Storage, storage, and more storage! Containers under the bed, in the closet, and even on shelves are very helpful when living in smaller spaces. A good water bottle is nice to have, especially going from class to class and not having time to stop back at your dorm.
A stapler is handy to believe it or not. So is tape (washi tape, duct tape, and Scotch tape), small plastic storage containers, paper clips, jumbo binder clips, and extra carabiners.
What do you put in a college care package?
It's nice to receive some essentials like toiletries or laundry supplies. Some students might also appreciate snacks they might not otherwise purchase like pudding, crackers, or my favorite: fruit snacks. Most students aren't expecting to receive anything, so no matter what gets sent to them it's sure to make their day.
You can use any cardboard box you might have at home that fits all of your items, or if you don't have one you can purchase one at Target, Walmart, really any place that sells them.
Once you have your box and your items you can place them however you like. You might consider putting some tissue paper in to keep the items secure (old newspapers should work just as well).
Does Amazon deliver to college dorms?
Amazon should deliver to most college dorms and anything sent from them will ship fast. As long as you have a valid address to send the package to that the student can access, Amazon should be able to deliver there. I have received many Amazon packages to my college P.O Box just fine.
What should you not put in a care package?
Things you shouldn't put in a care package are things the student has access to regularly. I think of care packages as a rare treat. It would be lovely to receive a package with ramen in it, but that's something a college student can normally afford.
Whoever you're considering sending something to will be thankful regardless of what you send them, but consider sending things they might not be able to get themselves, or things you think they would like. When in doubt, just ask.
What do you write in a care package letter?
My favorite care package letter I've ever gotten is from my grandma. It was short and sweet "Love you, can't wait to see you!"
What you put in a letter all depends on your relationship with the person. But here are a few tips. Handwritten letters are always better than typed, it's more meaningful. If you're set on using technology, try a video message!
Whatever you choose, the college student will be happy either way.
Check out these College Savings: 529 Plan Basics by State
Western 529 Plans
Southwest 529 Plans
Midwest 259 Plans
Northeast 529 Plans
Southeast 529 Plans
Other Plans
Related Articles: