Honoring thy dear old dad is deeply rooted in every religion on earth. Whether you consider yourself religious or spiritual, fathers are just as important as mothers for bringing a baby into the world.
How And When Did the First Father's Day Begin?
The loving connection between a good dad and his daughter is nothing new. And just like Mother's Day, the first Father's Day was introduced as a celebratory event by a doting daughter. In 1909, only a few years after Mother's Day spread through the states as a church celebration, Sandra Smart Dodd sat through her own church's Mother's Day service and wished there was a way to honor her dad properly. Her mother had passed, and he was not only a widow but a single parent of six children. The following year, Sandra went on a quest, campaigning to local churches, private shop owners, YMCAs, and government officials in an attempt to create a father-focused equivalent celebration to the already statewide-established Mother's Day. She suggested June 5th as the date to honor her dad's birthday, but the church only had the third Sunday of June open for the celebration. After a lot of effort on her part, it finally caught on in her state of Washington, where the first Father's Day was celebrated on June 19, 1910.
The celebration slowly spread through the states, but it took years because many people didn't like the concept and felt honoring one's father paled in comparison to the importance of celebrating their mother. The national recognition of Father's Day as a holiday was introduced to Congress in 1913 and again in 1916 by President Woodrow Wilson, but it was refused. President Calvin Coolidge suggested the celebration in 1924 but failed to authorize it. Finally, President Lyndon B. Johnson approved the first Father's Day as a holiday in 1966 and scheduled every third Sunday of June as the official date to honor the dad in your life, whether he's a first-time dad, new dad, or veteran patriarch. However, it wasn't until 1972 that President Richard Nixon signed it into US law –62 years after Dodd's initial efforts to honor her dad. That's quite a difference from the four years it took to honor mothers nationally, but good things can take time.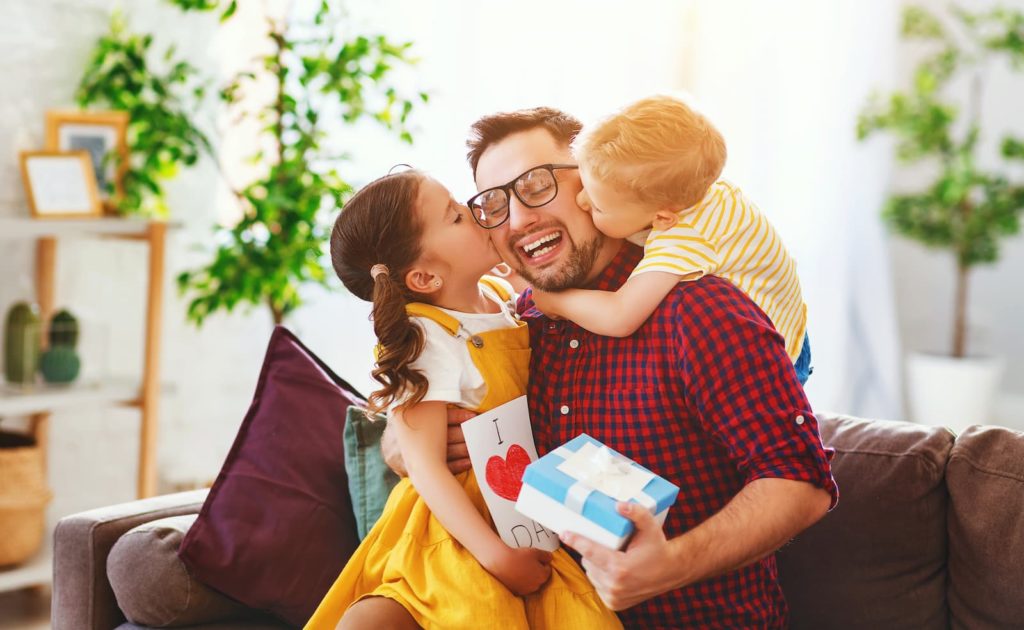 From its early 20th century roots to today, Father's Day is a great time to celebrate Dad.
What Are the Best First Fathers Day Gifts Ideas for a New Dad or First-Time Dad?
Father's Day is the 6th most popular US holiday, ranking just below July 4th and just above Halloween. Approximately 75% of Americans celebrate the holiday compared to at least 85% who celebrate the matriarchal counterpart. According to the National Retail Federation, dad gets significantly less spent on him–approximately $16 billion nationwide than nearly $27 billion for mom's special holiday.
There are a variety of reasons for that, and sometimes it's as simple as dad doesn't feel that he needs or deserves to be spoiled or pampered like his other half. If both parents or parental counterparts have raised you, you've likely experienced that dynamic at sometime first-hand. But that doesn't mean dad doesn't want or deserve a special Father's Day gift. This is especially true when it comes to a new dad or first-time dad.
A first-time dad or new dad probably won't want or appreciate the same type of presents your mom did for her holiday. So it's likely a safe bet to pass on the flowers, candy, and self-care items for bath-time and beauty care. Jewelry may be out. And guess what? That helps out the budget quite a bit. But new dads, especially, still appreciate it when their kids and significant other make some effort.
Personalized gifts can be the best option for a memorable first Father's Day, and they're not hard to find. In fact, with a bit of planning, they can be pretty affordable as well. Head to the mall or local shops in your area to buy personalized gifts and endearing engraved mementos to make a first Father's Day extra special. Might we suggested ties, "grillmaster" aprons, coupon books, and other gimmicks are a bit played out. Unless you want to offer these gifts ironically, poking fun at these cliches.
You can often buy unique first Father's Day gifts on etsy.com. Browse the featured and popular items like grill sets and coffee essentials. Use the etsy.com search bar and enter "first Father's Day gifts," "best Father's Day gift," "Father's Day gift from baby," "new dads," "baby's first gift for dad," or whatever other ideas pop into your mind to find the best gifts from your little one. Etsy.com is known for its fun, unique, and often high-end gifts, especially those that are personalized or targeted to special celebrations or events. You can even have an Etsy shopkeeper make digital media a part of dad's present. Unlike amazon.com, etsy.com doesn't offer a rewards program involving free shipping. However, many sellers with shops they created and maintained on etsy.com offer free shipping and special deals for holidays or specific celebrations, especially if users provide an email address. If you've never visited Etsy, don't be intimidated. There's even a page to help users find more information. Be sure to take advantage of deals when shopping for your first Father's Day gifts. You may be able to find extra goodies to buy for your favorite dads like a dad hoodie, photo book, or unique coffee supplies.
First Father's Day Gifts – Specific Ideas
While a great gift or gift card can be fun, many dads just want to have an experience with their baby or family for their first Father's Day. And some of the best gifts are adventures or memories. So think outside the box.
Buy tickets to a special sporting event and let dad and the baby coordinate outfits.
Book a photo session for the new dad and the little one or the entire family.
Plan a camping trip with new gear. A new Yeti cooler or tumbler is a perfect gift for any camper, tailgater, or grillmaster. While this beloved brand is pricey, the Yeti Black Friday and Father's Day sales are great times to score an exceptional deal.
Get tickets to Comicon or another event he'll love.
Dads and baseball seem to go together perfectly together. Get dad some great baseball gear on sale, and take him out to the ballgame.
If your dad loves to tinker on his vehicle, a Tire Rack gift card may actually be a great, personal gift. It's a gift card to one store he probably won't be expecting.
Celebrate Dad in Style By Introducing Him to Upromise
Paying for their children's college education is the most important financial "gift" (or "obligation") any parent will ever undertake. Father's Day can be a great time to get the ball rolling and start a college savings fund. While it may sound like a gift for the kids, starting a college fund early will be a godsend to Dad down the road. Set aside $1,000 now in a 529 college savings plan and that money could more than double over the next 10-15 years through investment growth and compound interest. The earlier you can start, the better. And for many 529 plans, you need a minimum contribution of $20 or less to enroll.
Upromise can help Dad continually grow his college savings for the kids – and without having to change any spending habits. Upromise is a nationally recognized college savings and scholarship program to help hardworking parents prepare for their kids' future educational expenses. Visit upromise.com to sign up for a free account and get an instant bonus of $5.29. Once a member, the account holder can begin earning extra rewards towards future college expenses for anyone they choose, whether their own child, a grandchild, a neighbor, a close friend, or potentially a stranger's child across town (to each their own).
As long as you're at least 18 years old and either a US citizen or resident, you're welcome to join Upromise. From there, choose the right 529 college savings plan to begin your savings journey or link another 529 college savings plan you may have through a separate broker. Sign up for the Upromise Mastercard and use it on eligible restaurant and retail purchases. You may earn extra bonuses up to 15% towards your savings program. Upromise also awards monthly scholarships of $529 per month to one lucky family. Get unlimited scholarship entries by earning rewards on linked 529 college savings plans through your Upromise account. Set up a Upromise account and 529 college savings plan in the name of the special new dad in your life to give him an unforgettable Father's Day gift that will keep giving for years to come.
Related Articles:
All State 529 Plans by State