Ahh, spring break, one of the best times of the year. A week off of school or work, no homework to do, and no annoying phone calls. A blissful week filled with rest and relaxation. If you're from a cold climate like me, you probably dream of getting away to a place filled with white sandy beaches and bright blue oceans.
Unfortunately, that isn't always possible as a college student or young adult due to financial reasons. If traveling is so great, why make is it so expensive and inaccessible?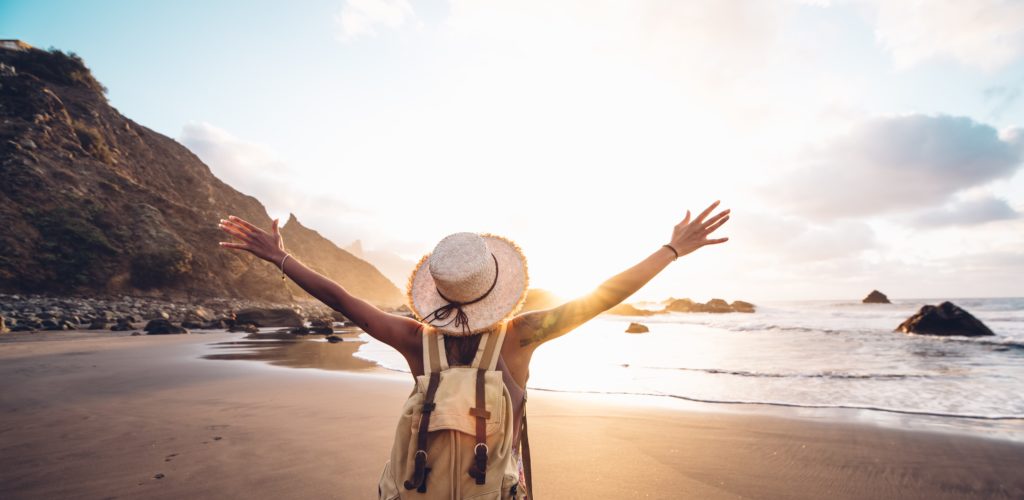 Just because you might not be able to afford the most extravagant beach vacation does not mean you can't have an amazing spring break trip. There are ways to cut costs and still have a vacation filled with white sand beaches and the dazzling blue ocean.
Keep reading for some cheap spring break destinations, how to plan an affordable trip and the best trips for college spring breakers.
What are the Best Things to do This Spring Break Season?
During spring break your Instagram feed is probably chock-full of people vacationing at the beach, but that isn't the only trip that exists. There are plenty of other fun things you can do over spring break, like going to a national mall or the country music hall. The fact of the matter is, if you want to do something fun over spring break there are tons of options!
If you're looking for something fun to do in your home state over spring break try visiting a national park. Most parks are free and those that do require an entry fee are pretty reasonable, generally costing between $5-35. Visiting a park provides a beautiful scenic experience, some fresh air, and some great exercise.
Along the same lines as visiting a park, you can also visit a national zoo. Most zoos are free to enter but will ask for a donation to keep the place running. This is a great daytime activity and doesn't require a ton of planning.
If you're looking to go out of state this idea might be for you. Pick a major city in another state, like Dallas, Texas, or Seattle, Washington, and go explore! Don't plan an itinerary just go with the flow. You're sure to see and experience many different things in any major city you choose, and airfare is fairly cheap right now. Large cities feature trendy restaurants and often live music and other outdoor activities.
In summary, you can skip the beach and try these things:
National mall
Country Musical Hall
Visit a national park
Visit a national zoo – look for ones with free entrance
Visit a major, large city out-of-state like Dallas or Seattle.
Can I Plan a Cheap Spring Break Trip?
Yes, it is possible to plan a cheap spring break trip. Some ways to reduce the cost of your trip are taking multi-stop flights, staying within walking distance of things, and taking advantage of nature.
Multi-stop flights might sound inconvenient and a long day of traveling isn't at all appealing, but it can take a considerable amount of money off your flight. With non-stop flights, you're paying for convenience, and yes that's nice, but when you're traveling on a budget, multi-stop flights are the way to go. This is one of the easier ways to plan a budget-friendly trip.
Staying within walking proximity of your attractions is a real money saver. When choosing where to stay on your vacation, whether it be a hotel, a condo, or an air b&b, try to stay within a reasonable distance of whatever you came to see. For example, if you chose to go to Miami stay within walking range of the beach and some restaurants. By doing this you can cut out the cost of renting a car or having to pay to uber.
Taking advantage of nature is probably the easiest way to save money on a spring break trip. Instead of paying to get into theme parks, take in the natural beauty of wherever you're staying. Check out some hiking trails or just walk the streets. You won't believe how much enjoyment you can attain from just taking in the scenery.
Whether it's through cutting costs on what you're purchasing, or just not purchasing things altogether, you can find cheap accommodation for most things when traveling on spring break. You can save big bucks when you book on discount travel sites like Travelocity or Orbitz. You could even hit the jackpot and even fly first class for free or almost nothing.
With some airfares, hotels, and booking sites, you may even find some great college student discounts.
7 Best Cheap Spring Break Trips
So now we've gone over some accessible spring break trips and some ways to make them more affordable. Here are 7 cheap spring break destinations that are especially popular among college students.
1. Zion National Park
If you're looking for a fun and adventure-filled spring break trip, Zion National Park is perfect for you. The southwest Utah nature preserve is beautiful and features moderately warm weather. You can make this trip work on a budget by either choosing to drive out there if you live close enough or choosing an inexpensive flight.
2. South Padre Island
South Padre Island in Texas is a popular spring break destination for college students because of its affordability. A quick google search will bring up tons and tons of spring break package options bundling together a hotel and food, making this one of the best cheap spring break options. If you're looking for a sun-filled spring break and to stay on budget, definitely check this one out.
3. Cancun, Mexico
A spring break trip in Mexico isn't just for high school seniors who want free reign of the bar. With surprisingly affordable options available Cancun is the #1 international spring break destination. With affordable resorts, this is a prime destination for budget-conscious travelers. Whether you're looking for a chill beach vacay or fun activities all day long, Cancun is the place for you.
4. Key West, Florida
Being only 90 miles from Cuba at its southernmost point, Key West features pleasant temperatures all year long, but the best time to go is during spring break season. Unlike most places, where you want to avoid tourist season, Key West is the opposite. The more people there, the better the party! Historic charm mixed with a great party atmosphere, Key West is a great place to visit.
5. Minneapolis, Minnesota
Hear me out on this one, yes it is cold in Minnesota over spring break, but there are so many things to do! Check out the Mall of America featuring over 520 stores during the day, and go bar hopping at the various downtown Minneapolis Bars at night. This might not be the warmest vacation, but it does work well on a budget rounding out a cheap spring break vacation.
6. Myrtle Beach, South Carolina
Looking for a beach vacation you can afford? Look no further, Myrtle Beach is the best affordable spring break destination. There are tons of things to keep you busy besides the beach, like the boardwalk and other local attractions. Personally, this ones next on my travel list!
7. Orlando, Florida
Last but certainly not least, we had to include the most magical place on earth, Orlando Florida. Yes, theme park rates can get pricy, but the more days you spend at the parks the less it is per day. You can find reasonably priced hotels father out from the main area too. Some of the parks even offer a student discount. Orlando is a great option if beaches aren't your thing, but you still want a sun-filled spring break.
Final Thoughts on Cheap Spring Break Trips
Traveling is a pivotal life experience that everyone should have. Price shouldn't be a deciding factor for whether or not you can experience it, and now it doesn't have to be. With the ways we've outlined to cut travel costs, taking a trip won't drain your bank account.
So go and plan that spring break, work and school will be waiting for you when you get back. For now, enjoy the time off!
Related Articles:
Check out these College Savings: 529 Plan Basics by State
Western 529 Plans
Southwest 529 Plans
Midwest 259 Plans
Northeast 529 Plans
Southeast 529 Plans
Other Plans